Tokarine (トキャリーヌ, Tokyarīnu) is a Hunter and a member of the expedition to the Dark Continent on the side of the Zodiacs.[1]
Appearance
Edit
Tokarine is a chubby woman with a round face and small eyes, nose, and mouth. She wears her dark hair in a bob haircut with a fringe and two locks pointing sideways. The hair at the top of her head is dyed a lighter color. She also has an earring and an ear piercing in each ear.
Personality
Edit
Tokarine seems to be aware of her own limitations and is not afraid to disclose them.[1]
Succession Contest arc
Edit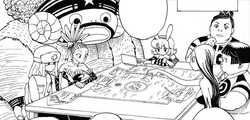 Tokarine attends a meeting with four Zodiacs, Sanbica, and another Hunter. Gel says Tokarine will be in charge of moving goods from the Dark Continent to a relay point managed by Knov. Tokarine comments her ability is not enough and that it would be better to enlist 2 or 3 more people, while silently wondering how Gel ended up looking the way she does.[1]
Abilities & Powers
Edit
As a Hunter, Tokarine has all the benefits granted by her status. Since she was selected by the Zodiacs for the expedition to the Dark Continent,[1] she is most likely a valuable asset.
Tokarine's Nen ability is said to be useful when it comes to transportation. However, she claims that her Nen ability is not as handy as Knov's, as it is incapable of teleportation and has a low capacity.[1]
References
Edit
Community content is available under
CC-BY-SA
unless otherwise noted.