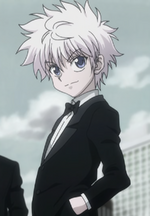 Hi everyone. I know I haven't been active for such a long time, and so, I thank each and everyone of you for contributing in Hunterpedia (especially those vandalizers; they give us work to do). I hope you guys can forgive me. Anyway, I've recently removed four admins (see here). They've been inactive for like one to two years. Since everyone is doing a great job in keeping this wiki alive and orderly, I opened up two positions for being an admin.
That's right. Two of you may just become the next administrator. This blog's purpose is to talk about it. You can nominate yourself, if you think you can handle the job. You can nominate someone else, if you think they're worth it. And you can ask for rollback rights; I'm very fine with it. This blog will be open anytime and the decision will be based on how everyone agrees to it. You may leave your questions below or just visit my Talk Page.
Good luck everyone. I hope many are interested in it. We need help since HxH is getting popular, thanks to the 2011 version. Also, we need to organize the episodes page. All of them. And images too. I can't provide images because I don't have any resources. For anyone who's available, please help.
Oh and for those who are wondering why Killua is on the side, don't mind him. I'm just taking my time admiring Killua in an tuxedo. Isn't he cute? I wish I have a little brother like him (─‿‿─)
Thank you. ~
Community content is available under
CC-BY-SA
unless otherwise noted.